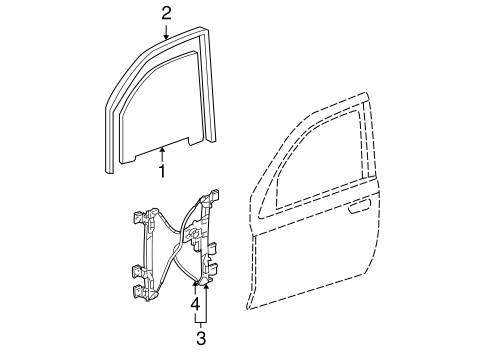 No.
Part # / Description
/ Price
Price
Passenger Side Front Door Window
Door Glass, Right
GM without Denali & SS. Helps provide visibility\ \ Helps protects your vehicle from the outside elements\ \ This GM Genuine Part is designed, engineered, and tested to rigorous standards and is backed by General Motors
Door Glass
Door Glass, Left
1st design. GM without Denali & SS.
Discontinued
Discontinued
Driver Side Front Door Weatherstrip
Run Channel, Left
Helps prevent the elements from entering your vehicle's interior\ Helps reduce road noise\ This GM Genuine Part is designed, engineered, and tested to rigorous standards and is backed by General Motors
Passenger Side Front Door Weatherstrip
Run Channel, Right
Helps prevent the elements from entering your vehicle's interior\ Helps reduce road noise\ This GM Genuine Part is designed, engineered, and tested to rigorous standards and is backed by General Motors
Front Driver Side Power Window Regulator Motor
Window Motor, Left
S-series. Envoy/Rainier/Trailblazer. With short wheel base. 1st design. Bravada. Left. See window regulator. This part requires programming and/or special setup procedures GM Service Information describes the procedures and special tools needed to ensure proper operation in the vehicle\ Designed to allow the window to be operated with the push of a button\ This GM Genuine Part is designed, engineered, and tested to rigorous standards and is backed by General Motors
Front Passenger Side Power Window Regulator Motor
Window Motor, Right
S-series. Envoy/Rainier/Trailblazer. With short wheel base. 1st design. Bravada. Right. See window regulator. This part requires programming and/or special setup procedures GM Service Information describes the procedures and special tools needed to ensure proper operation in the vehicle